Admissions to Solebury Montessori School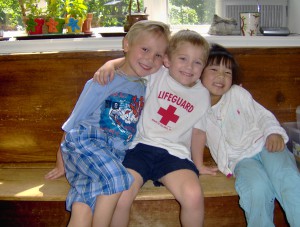 Solebury Montessori School accepts children ages 3 through 6, preschool through kindergarten. We have a rolling admissions policy, and accept children based on availability.
Nondiscrimination Policy
Solebury Montessori School admits children of any race, creed, sex, color, disability, ancestry, and national origin.
Minimum Age for Admission
The child will need to be 3 years of age, and toilet trained by the school start date to be eligible for admission.
Kindergarten Requirements
Children 5 years of age by September 1st will be eligible for kindergarten.
Admissions will be based on the following:
Availability of space
Siblings of currently enrolled studentsBalance of gender and ages
Application Procedures
Schedule a visit to the school with your child.
Observing a Montessori classroom in action is the best way to experience this remarkable approach to education. Families may bring their child to the initial visit if they are at least 2.5 years of age.
Please call 215-862-1700 or click on the contact us button to schedule your visit.
Parents will meet with the director to discuss the educational goals and needs of the child. During this time, the child will be involved in various activities with the students and the head teacher.
Submit application with $50 non-refundable fee.
Admissions decision.

If the director of the school and the parents/guardians of the prospective student agree that Solebury Montessori School is a good fit for the child and the family, then the registration process can be completed.

Forms to be completed for registration.

Contract/ Agreement Form
Health Assessment/Immunization Form
Emergency Contact Form
Photo ReleaseSchool Directory Release
1st Month Tuition